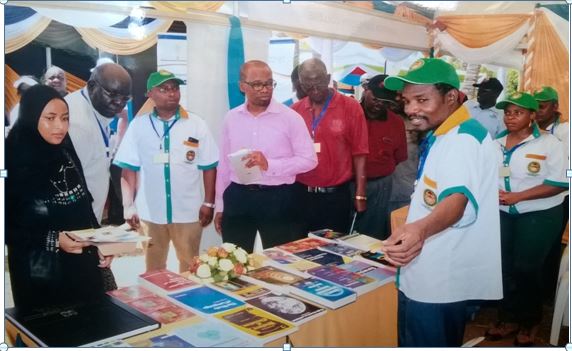 For the second year running, Garissa University College participated in the 14th Exhibition by Kenya Universities organised by the Commission for University Education with pomp and colour. The exhibition which was held at the Flamingo Beach Resort and SPA situated in Shanzu, Mombasa County with the theme Celebrating expansion of university education through diversity and integration, brought together all universities in Kenya to showcase their programmes, research products and innovations. The forum attracted a large audience mainly from surrounding schools. The opening ceremony was graced by Hon. Lewa Tendai Mtana, the Executive Secretary of Education & Children in the County Government of Mombasa.
GUC stand was among those chosen to be toured by the Guest of Honour. Many visitors including the Chief Guest expressed their joy at GUC having recovered so quickly from the 2015 terror attack and participate in such a forum that requires rigorous planning and preparations. The guests also marvelled at the GUC's innovation of a book binding machine used mainly in repairing books.
GUC was represented by a high powered team including Prof Ahmed Osman Warfa, the Principal; Dr. Issack Noor, Registrar (Academic and Student Affairs) Mr. Iddi Juma, the Acting University Librarian, John Ngigi, Assistant Registrar in charge of admissions among many other officers and students representing admissions, students welfare, library and marketing and communication.
Going forward, the institution is committed to allocate more resources to this venture and ensure that its exhibition materials including research and innovations are greatly improved to industrial level.